Blueprint for Realtime Victim Tracking and Tracing
See also: GIS Real Time Tracking
Tracking System
This is proposed to be done using the SOS Layer.
Objects in this description can be persons or person groups, but also other items (e.g. dead bodies, vehicles).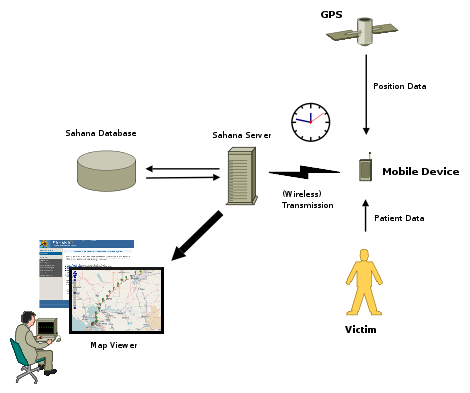 Model
Store different positions and position-related additional data (e.g. speed, course, ...) of objects/object groups related to time (points/intervals)
Allow definition/aggregation of object groups/subgroups and categories/subcategories
Distinguish between first, past, current and forecasted positions
View
Display tracks of positions of objects or object groups over a (user-defined) time interval
Plot traces between positions
Use certain indicators for additional data (such as speed or course) to mark (selected) positions
Link additional information from the markers, e.g. free text, wiki-text, URLs
Controller
CRUD functions for objects and groups/categories (RESTlike?)
Take up real-time position data of objects from external sources and update the database
Allow data transmission on multiple/parallel ways, e.g. HTTP, SMS, E-Mail, ...more?
Transmission should be as easy, available, reliable and energy-efficient as possible
Use derived/inherited data to minimize data transfer
Forecast object positions (and other object features)
Allow splitting of objects/groups into subdivisions
make location and status information of victims available through person-related modules (DVR, DVI)
Other clients (e.g. on mobile devices)
Capture real-time position data (and other information) of objects and send them to the server
Allow data transfer on multiple ways (even in parallel)
Read data of e.g. disaster victims (displaced/injured/deceased persons) from tags (e.g. barcode, QR Code, RFID)
---
Attachments
(1)
Download all attachments as: .zip
Note:
See
TracWiki
for help on using the wiki.