Workflow Guidelines for Sending a Shipment From a Warehouse
Introduction
This guide will tell you about the best workflow to send a shipment from a warehouse to another warehouse, organisation, or person. Before you follow the instructions given here, please ensure that:
You have already created your source warehouse and destination warehouses.
You have the appropriate permissions with your source warehouse.
You have already started and closed a stock count of your source warehouse.
(if you have not, this guide also includes information on how to do so)
Workflow
Stock Count
If you've already done this, you can skip this step. First, click on the "Warehouses" link in the top panel and then click on "Adjust Stock Levels" in the panel on the left. Now click on "New Stock Count", select the an auctioning office and the warehouse you're trying to stock and save.
Your stock count is now "in progress." You will now automatically be taken to the Items page of your Stock Count where you can add new stock items. Go ahead and add some of the item you want to ship to the stock of your source warehouse.
After you're done with changes to your warehouse's inventory, you can click on the "Close Adjustment" button to finalise them.
Sending Shipments
Now, click on the "Sent Shipments" link in the left panel and then click on "Send New Shipment."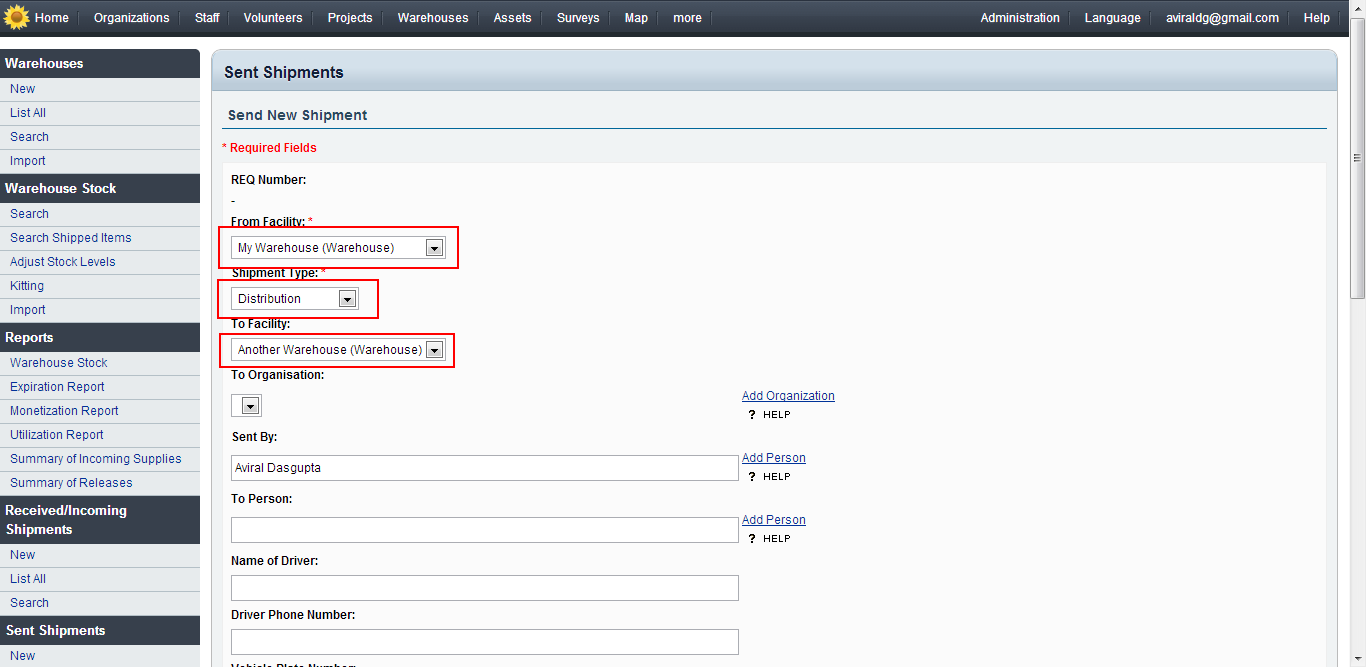 Select your warehouse in the "From Facility" field, select the shipment type, and the organisation or facility to which you're sending the shipment, and click on Save. You will automatically be taken to the items page of your shipment.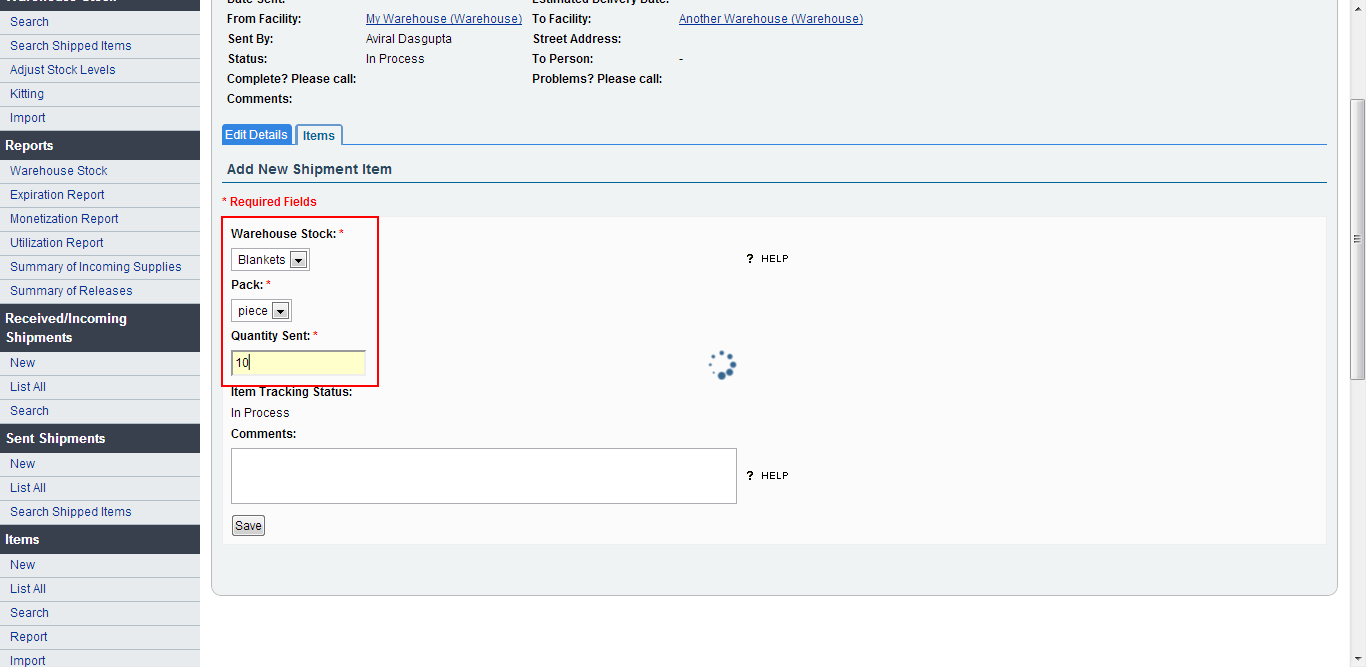 Enter the item to send, the pack and the quantitiy (ensure you have enough in the source warehouse) and click on save. You can now send the shipment or add more items to it, from the "Process Shipment" page.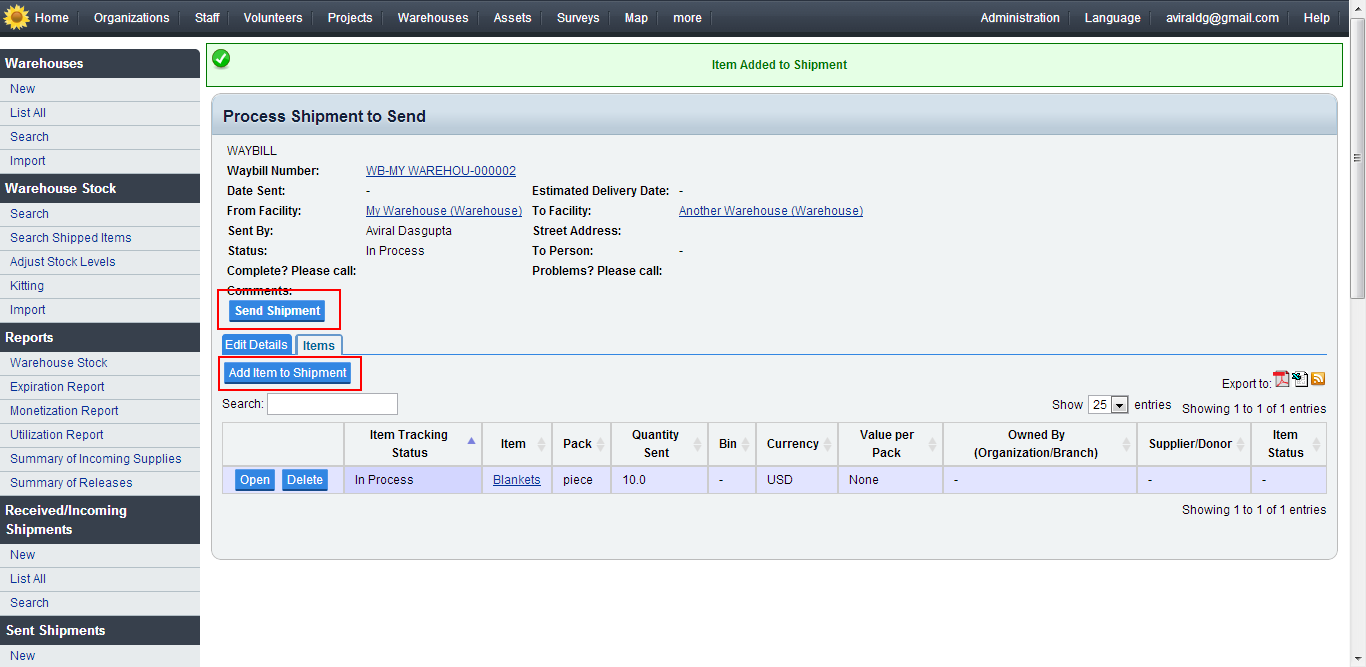 Attachments
(3)
Download all attachments as: .zip
Note:
See
TracWiki
for help on using the wiki.