S3UI Framework
S3XRC being a powerful backend that serves XML and JSON in a RESTful manner has now got a front-end framework that can exploit its positives. S3UI - the new ExtJS based front-end help us not only utilize S3XRC but also save a lot of bandwidth by exchanging information in JSON instead of full page reloads. This in turn aims to create an easy and quick workflow for different tasks that a user does with Sahana Eden.
Current State
Outline
S3UI Framework allows end users to speed up their workflow by providing widgets that work on S3XRC.
Right now it has 3 major elements -

Grid View widget
Popup Forms
Rheader tabs

In place edits and creation are possible now.
S3UI framework communicates to backend in JSON through ExtJS
Usage
1. Grid View widget

Top toolbar -

Use "Save Changes" to commit any changes done on grid. None of the changes that don't pass through backend validation are committed.
When you make a wrong change, or you make too many of them and wish to start fresh, hit on "Undo Changes"
To add a fresh record, use "Add New" to pop up a form window
Data Columns -

Used to sort data by field - ascending or descending
click down arrow on one of them to turn fields shown ON and OFF
The Data Grid -

Once you're logged in, and have authority to edit data, the grid rendered is an editable one.

How to Edit?

Click a field to turn it into editable mode.
The red blips indicate edited fields
Once done, hit the "Save Changes" button
Actions -

This helps you open or delete a record - as indicated by icons
Bottom toolbar -

Use pagination controle to navigate multiple pages of rows
Refresh button to freshen up data in current view - helpful when someone else makes a change - fast as it reloads the current page rows only
Page size selector - Just in case you wish to look at more number of rows, goes maximum upto 100
2. Popup forms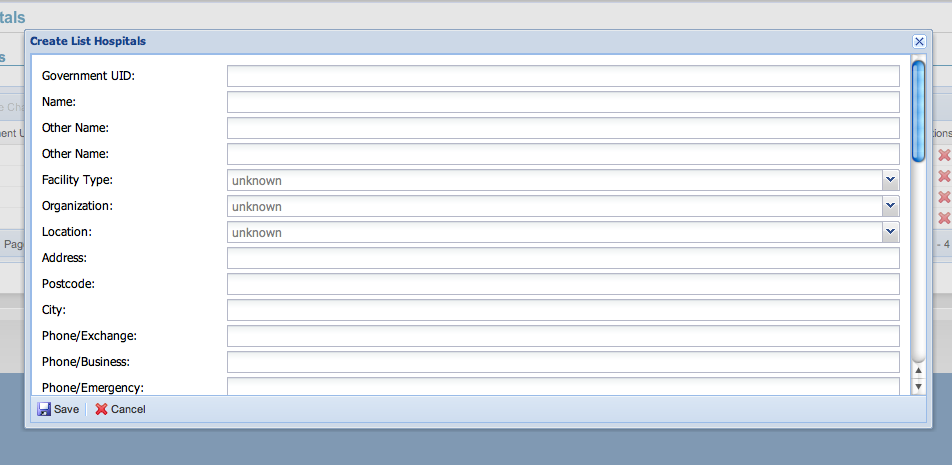 Popup forms help you quickly enter new / update old data
On a grid view - hit "Add New" button to bring this.
On an empty list, use "Add New" button on top right to bring this up.
On a resource page, use "Edit" button on top right corner to bring up an update form
Once done with entering data / changing it, hit "Save" button to complete the task.
Use cancel or close to destroy it. (closing and opening again would discard any unsaved changes made)
See Also
---
Attachments
(3)
Download all attachments as: .zip
Note:
See
TracWiki
for help on using the wiki.