Sahana Eden Wiki User Guide
Navigation
The Sahana Eden Wiki flows from page to page, starting with the Start Page. This page shows the general umbrella topics such as: Installation Guidelines for Eden and Contact information. On the wiki pages of these umbrella topics, there are more links to related topics. For example: The Installation Guidelines link leads to other wiki pages depending on the operating system chosen. All of these pages and subpages in the Wiki can be found in the Index. When searching for content, use the search bar which can be accessed by clicking search or using the bar that is available on all wiki pages - in the top right corner. See attachment for specific location.

Adding New Content
To add a new page to the wiki, you simply type in the URL of the page you want to create: (eden.sahanafoundation.org/wiki/NewPageNameHere). When the page tells you that the page has not been created yet, click "Create This Page"! In order to format the page, use the WikiFormatting Syntax.

Editing Content
To edit any body of text in the wiki, simply scroll over the header and click [Edit] as shown in the attachment. This will bring up a text editor which again requires the use of the WikiFormatting Syntax.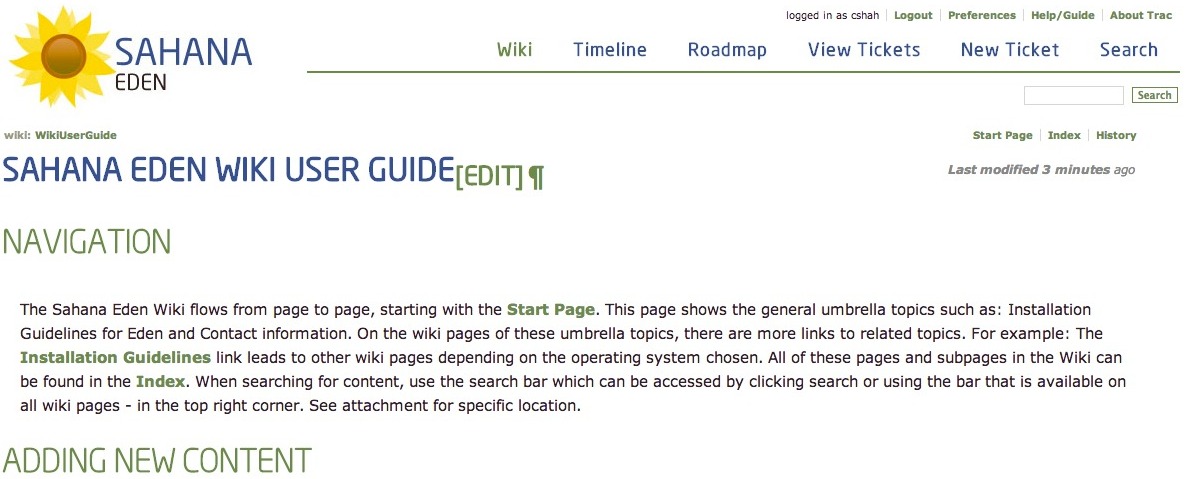 Keep in mind that in order to edit or create pages, you must be a registered user. In order to do this, click Register in the top right corner.
Attachments
(2)
Download all attachments as: .zip
Note:
See
TracWiki
for help on using the wiki.