S3XRC | S3XML | Transformation
S3XML On-the-fly Transformation
At a glance
S3XRC can perform XSLT transformation of XML/JSON sources on-the-fly upon data export and import.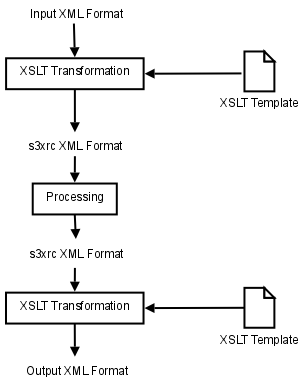 The XSLT stylesheets to use for this transformation can be either:
integrated in Eden (folder static/xslt)
in a static file elsewhere on the server
anywhere on the web
attached to the request (at import)
Integrated Stylesheets
These will automatically used if no other stylesheet is specified. The integrated stylesheets reside in:
static/xslt/export for export transformation (S3XML into other format)
static/xslt/import for import transformation (other format into S3XML)
The name of the respective stylesheet must be <extension>.xsl, where <extension> is the file extension of the respective format, e.g.:
pfif.xsl transforms from/to *.pfif from *.xml
Formats *.xml and *.json will not be transformed.
XSLT Stylesheets on the Server
XSLT Stylesheets on the Web
Attached XSLT Stylesheets
---
Attachments
(1)
Download all attachments as: .zip
Note:
See
TracWiki
for help on using the wiki.