S3Hierarchy
Purpose
The S3Hierarchy toolkit can be used to perform lookups in hierarchical taxonomies. It analyses the parent-relationships of the records, and provides methods to access and search through the parent-, child- and sibling-axes of each record.
Example
Facility type as an example for a hierarchical taxonomy:
Arts and Recreation
Community Groups
Education

Adult Education
Guidance and Tutoring Programs

Health and Mental Health

Dental Care
Health Centers
Health Clinics
Health Screening and Testing
Hospitals and Medical Centers
Mental Health Counseling
Mental Health Programs
Public Health Programs
Substance Abuse Programs

Social Services

Children and Family Services
Public Information Services
Senior Services
Support Groups
Data Model
To store a hierarchical taxonomy, the database table must include a parent reference (self-reference). This can either be a foreign key to the table, or - if the table is a super-entity instance - a (second) reference to the super-entity.
The diagrams explain the two models: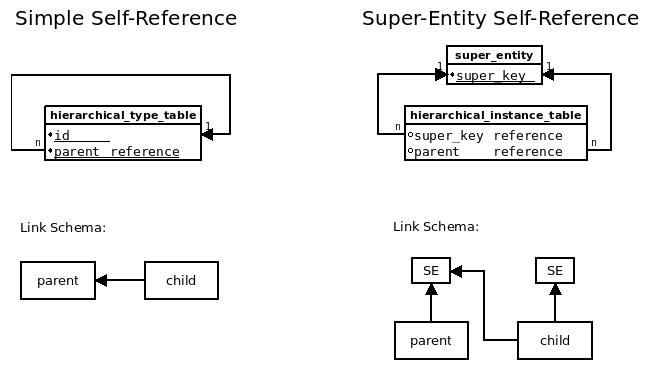 Configuration
The hierarchy is configured in the model as the field name of the parent reference:
    self.configure(tablename, hierarchy="parent")

If categories (e.g. level) are to be used, the hierarchy is configured as tuple of parent reference and category field:
    self.configure(tablename, hierarchy=("parent", "level"))

Connecting to the Hierarchy
Attachments
(1)
Download all attachments as: .zip
Note:
See
TracWiki
for help on using the wiki.