Continuous Integration
Current Setup
CI Server's cron runs the tests every 24 hours
Using Web2Py from Tue Jun 11 08:00:48 - Version 2.5.1-stable+timestamp.2013.06.11.08.00.05
Using latest Trunk Eden
Using IFRC, default, SandyRelief, DRMP, CRMT templates
Using SQLite
Using Chrome
The CI server is ci.eden.sahanafoundation.org (currently at 82.71.213.53).
Results are stored as HTML files in the filesystem which can be accessed via the Eden instance under test. For the CI server, this is:
Also, the results are being mailed to a ​mailing list.
You can simply follow the above link and click on "Join group to post" to join the mailing list.
The CI Server sends out a daily test report email to this list.
You can manage your subscription by clicking on "My Settings" tab on the top right corner.
/usr/local/bin/testsuite
Updates Web2Py to current Trunk (from github.com/web2py/web2py)
Updates Eden to current Trunk (from github.com/flavour/eden)
Cleans database & prepopulates
Runs Functional Tests (Selenium)
Runs Smoke Tests
Runs Roles Tests
Mails out test results (using /usr/local/bin/mailTestResults.sh)
The code for /usr/local/bin/testsuite and /usr/local/bin/mailTestResults.sh can be found in the attachments.
The workflow is depicted here -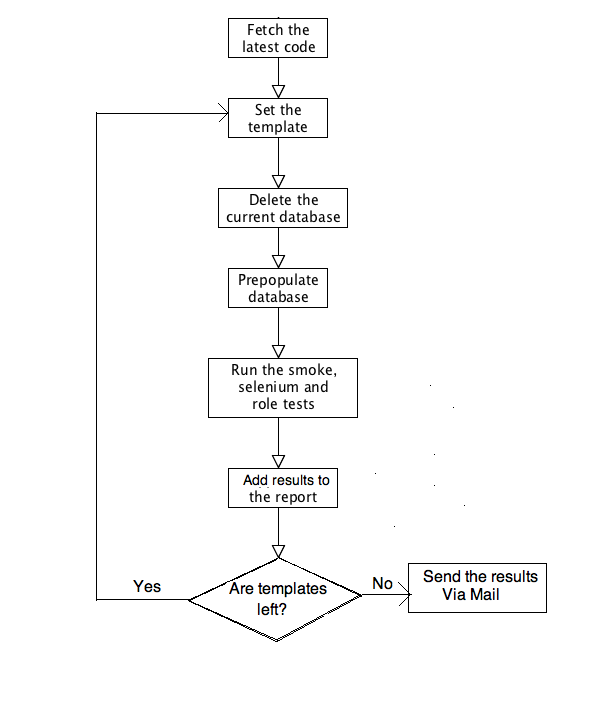 NB Tests require Python 2.7, so Pythonbrew is used to allow this to coexist with the system Python 2.6
To run the test suite manually, run:
/usr/local/bin/testsuite

To just run smoke tests:
/usr/local/bin/web2pystarter
cd /home/web2py
xvfb-run -a python web2py.py -S eden -M -R applications/eden/modules/tests/suite.py -A --html-path /home/web2py/applications/eden/static/test_smoke/ --suite smoke --force-debug --link-depth 16 -V 4

Start Window based applications (x11):
If the GUI window of the application is of no interest to you:

xvfb-run -a *test commands here*


For example :

xvfb-run -a python web2py.py -S eden -M -R applications/eden/modules/tests/suite.py -A -V 2


Note: Xvfb basically makes a virtual display which isn't displayed anywhere. Xserver itself actually requires a real display
If you want to see the GUI interface of the application

If the machine you use to ssh into the server, has X Server installed, then you can access the GUI window by using the -X flag when loggin into the server

ssh -X youraccount@82.71.213.53


And now, if you simply execute any application which has a Xserver attached to it, it will be displayed on your screen.
Plans for Future
Move mailing script out of a personal user directory
Move cron commands to system /etc/crontab rather than root's crontab
Fix Reporting of Smoke Tests
Enable Roles Tests & fix any issues which caused it to be disabled
Run Unit Tests
More templates (default, etc)
More databases
More browsers
More web2py versions

e.g. 'Current Stable' (as-defined by Eden) & 'Trunk'
having errors in Trunk Web2pY which aren't seen in 'Current Stable' homes us in on where problems lie

Install an Eden instance to act as a CI server

Move the cron scripts to being run by Eden Scheduler
Have Eden manage the mailing of results & manage subscriptions
Have Eden store the results in the database for Graphical analysis
Same Eden instance can be Sunflower which replaces Trac for tickets
Have Eden analyse results intelligently - e.g. logging tickets for Web2Py issues when web2py version is seen as the cause
AUT should be possible on remote servers

e.g. Spawn AWS instances using

​

https://github.com/flavour/spawn-eden

AMIs built for Cherokee/PostgreSQL & Apache/MySQL to speed-up bootstrapping of instances

Can do Performance Testing
Can do Tests on servers with User Data?

This replaces the old install of Jenkins
Setup Notes & Discussions (to be ported to Wiki):
Attachments
(4)
Download all attachments as: .zip
Note:
See
TracWiki
for help on using the wiki.