Getting started and operating SAFIRE
Blueprint - with the customer requirements, technical design and specifications.
Introduction
Purpose
This document serves as a knowledge repository for users to refer "how to" content with carrying out the roles specific workflows:
The document is present with the most frequently used features at the top and the others at the bottom of the page (e.g. installation and administration)
Workflows
Logging incidents
API: /eden/event/incident_report
Incident logging form is simple and quick to capture the necessary information
Depends on predefined data:

incident type that your organization is implementing
reporting date defaults to now
status can be extended beyond open & closed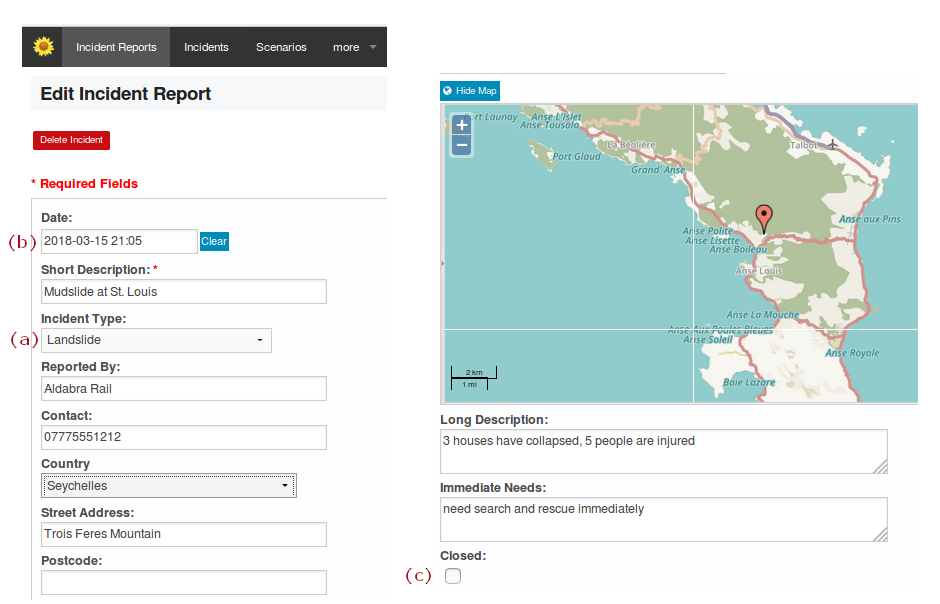 Building the action plan
/eden/event/incident/X/plan (replace X with number)
Define the tasks
Assign resources

people (skilled)
equipment (assets & consumables)

Depends on predefine

people (skills)
equipment & assets
scenarios & tasks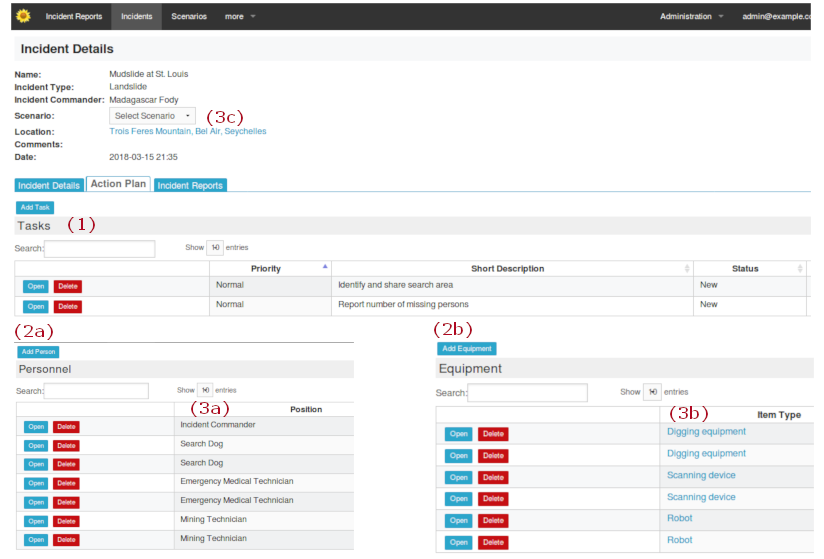 Dispatching resources
API: /eden/event/incident/X/plan (replace X with number)
assigning:

personnel
equipment

messaging first responders

dispatch to incident to cover an action plan item
request for information

Updating incidents
Publishing reports
Managing users
API: /eden/admin/user
Create a user and assign roles

APPENDIX
Upload data with Spreadsheet
Spreadsheet upload - the system administrator may upload several data records at once.
Installing SAFIRE
Installation script
in your terminal window run the configuration script (if with Debian, Cherokee, and PostGIS)

download the configuration script
run the script
when prompted for the template enter SHARE
proceed with the rest of the installation as you desire
Manually
Edit modules/000_config.py change

settings.base.template = "SAFIRE"


Migrate the database by running the commands in a terminal window

# see /usr/local/bin for clean script
> sudo su
> clean

Start web2py and test the URL in browser

http://127.0.0.1:8000/eden/

Another
Publishing situational reports
Attachments
(4)
Download all attachments as: .zip
Note:
See
TracWiki
for help on using the wiki.